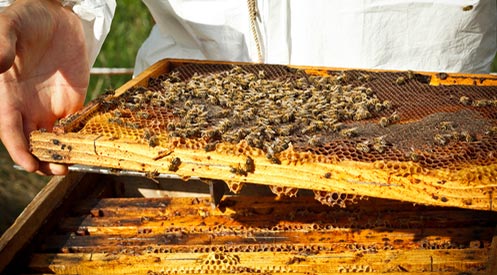 When bees, wasps, or yellow jackets have taken up residence in your home or office, you need a trustworthy, quick, and thorough bee removal service. In Naples and Collier County, FL, Johnson Bee Removal Services been filling that role for 25 years now. We're proudly certified as beekeepers through the state of Florida and know the best methods for ensuring your home is bee-free by the end of our visit. Here are the services we're proud to offer:
Bee control and removal: Our bread and butter is removing bees. We have been taking care of bees, honey, and their hives for over 25 years, so we know how to quickly and expertly remove them from your home or business. We are fully licensed and insured, and our quality and speed are unmatched by any other bee removal business in Naples. We are also available for yellow jacket and wasp removal!
Bee prevention: There are plenty of bee handlers that can get the removal job done, but many of them will leave you without the skills and knowledge necessary to make sure an infestation doesn't happen again. Instead of just putting a bandage on your problems, we can help you take steps to ensure that you won't have to become a repeat customer.
Bee damage repair: Bees, wasps, yellow jackets and hornets can all leave your home or place of business in a messy, damaged state. Our 25 years of experience cleaning up after bees make us the perfect people to put the pieces back together for you. Our professionals are friendly and knowledgeable and will have your home or office looking like new again in no time.
For the best in bee, wasp, and yellow jacket removal, there is no better name in the business than Johnson Bee Removal Services. Contact us today at 239-272-0072 and find out why we've been so successful for 25 years.